Table Tennis Skincare Guide- Year 2023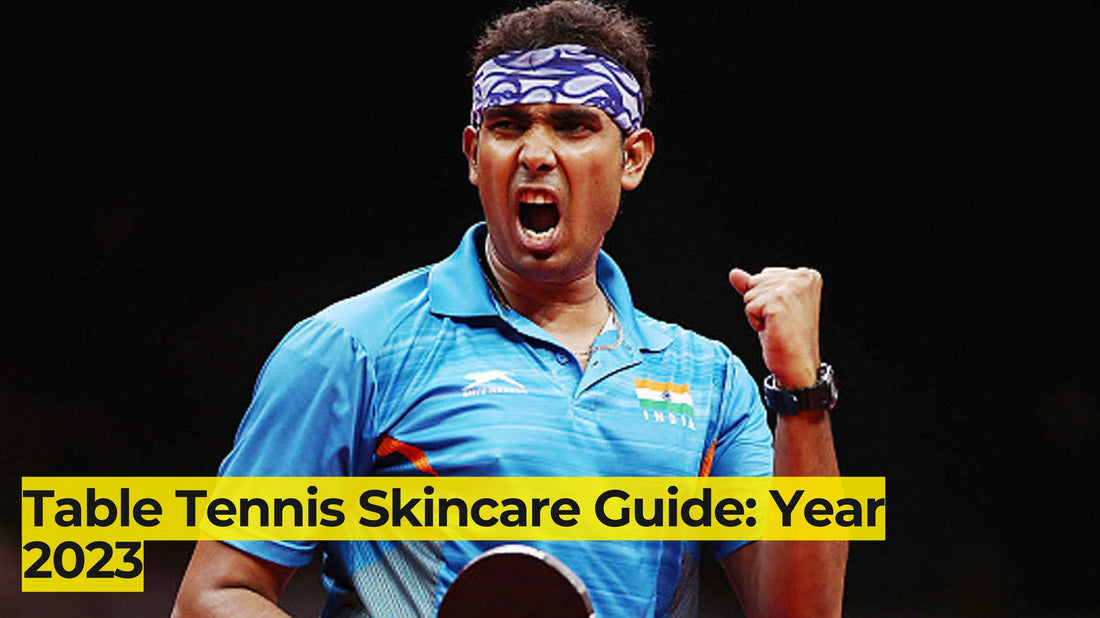 Table tennis is a sport that requires tons of concentration. An inadvertent goof-up here or there can cost you the game. Since table tennis demands concentration from the players playing the sport, any other thing that comes in the way should be kept at bay. One of the inevitable things in any sport is sweat. Therefore, table tennis players must keep their skin fresh during intense matches to perform to their optimum.
Here are some of the ways to do so:
Wet towel:
Wiping your face with a clean and wet towel between points during an intense table tennis match can work wonders. Whether you are under pressure or dominating your opponent, a simple action, like wiping your face with a soothing wet towel, can rejuvenate and re-energise you, helping you to bring out your best game.
Use hand grip cream or GripStrong spray:
Sweat is an inevitable part of any sport, and table tennis is not an anomaly. To play table tennis to your fullest potential and without letting sweat hinder your performance, using hand grip cream or GripStrong spray is necessary. A hand grip or
GripStrong spray forms a dry barrier over the skin
to prevent sweat from accumulating on the palm. This aggressive non-slip formulation significantly increases the friction between the players' hands and their table tennis racquet handle, thus effectively enhancing grip. It takes just 30 seconds to show the effect. Since the cream is usually made from natural ingredients, there are usually no side effects of using the hand grip cream or GripStrong spray.
Do you play a lot of Racquet sports? Then read our article on- 
How To Enhance Your Tennis Racquet Grip For Better Control?
Face wash:
Cleaning your face with a face wash after a high-intensity table tennis match is essential to protect your face from attracting any harmful effects that could be caused by dust and other contaminated particles. Though table tennis is played indoors, there could be a chance that the said elements are present in the indoor facility. Therefore, cleaning your face with face wash and water is paramount. Face wash helps remove dirt particles and other contaminants that would have settled on your face while you played the high-octane contest.
Of the different types of face washes available in the market, the ones containing charcoal are undoubtedly the best.
Charcoal in a face wash
works like magic since it helps remove excessive oils on the skin. Charcoal, in other words, activated carbon, can wipe out bacteria, dirt, impurities, and toxins. If you are interested to know about the best type of Facewash, then read on- 
Benefits Of Charcoal Face Wash
.
Given these features of charcoal, a face wash containing charcoal facilitates skin purification.
Moisturiser:
Just cleaning your face with a face wash after an exhilarating game of table tennis is not enough. It would be best if you complimented it with using moisturiser. So, after cleaning your face with a face wash, wipe it dry and apply moisturiser. Moisturiser aids in restoring the water and oil levels of our skin. It ensures the skin remains hydrated and does not suffer from dryness and other skin issues.
Do you know anyone who is a professional Table Tennis player? Share this article with them and ask them to comment below.