Preventing Volleyball-Related Skin Issues: Tips for Bumps, Bruises, and More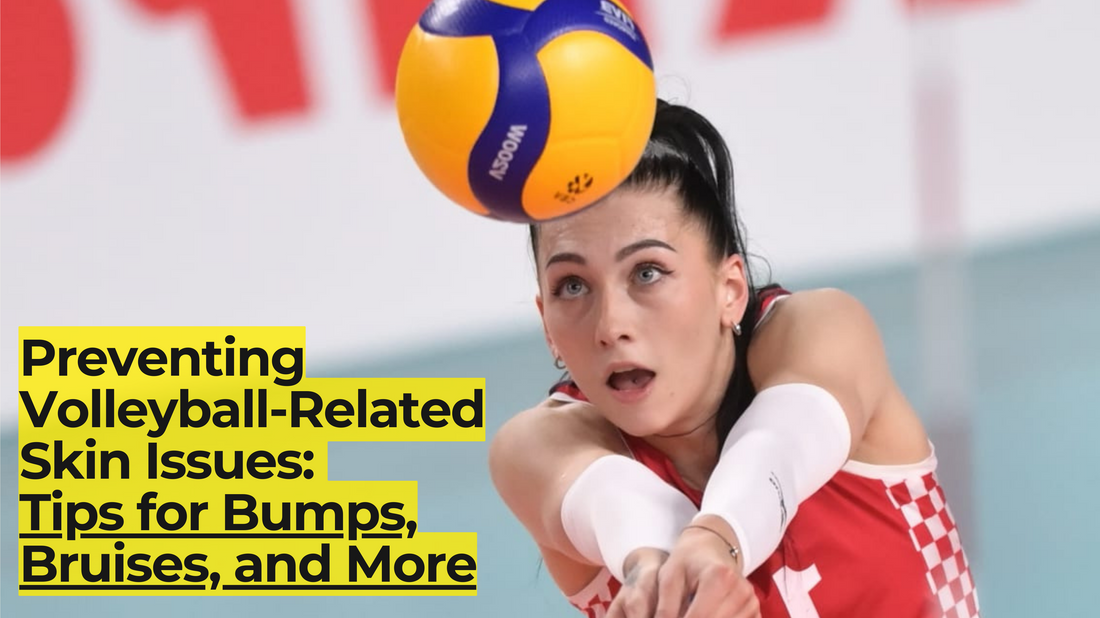 Like any other sport, Volleyball is a sport where injuries are inevitable. Whether physical or skin injuries, Volleyball players often find it challenging to keep them at bay. However, there are a few tips that you can keep in mind to prevent Volleyball-related skin issues, including bumps, bruises, and the like.
Protection against blisters.
Blisters form when friction causes the space under the top skin layers to fill with fluid or blood. The most vulnerable areas that attract blisters are the tips of the toes, balls of the feet, and backs of the heels. Blisters are most prevalent among athletes. They can be prevented by wearing perfect-fitting shoes, wearing breathable socks, removing wet socks and shoes shortly after the game or practice session, and keeping feet as dry as possible.
Protection against overexposure to sun.
Some effective sun protection gear includes sunscreen, clothing, sunglasses, and caps. Lightweight and breathable products can be worn while playing Volleyball in warm weather. Sunscreen with SPF 30 or higher is generally recommended. Besides,
broad spectrum and water-resistant sunscreens
are popular among athletes as they provide protection from both UVA and UVB rays. It should be applied to all bare skin at least 15 minutes before your Volleyball match or practice session so that it absorbs before sun exposure, paying attention to frequently forgotten areas, including the neck, ears and tops of feet. Use a lip balm with an SPF of at least 15 to protect your lips. If you plan to play Volleyball for over two hours, sunscreen should be re-applied.
Protection against sports-induced acne.
Wear cotton undergarments to reduce contact between the skin and the Volleyball clothing kit to avoid acne. Cleaning your sportswear regularly and letting it dry completely between matches or practice sessions may help prevent this rash. Also make sure to use face cleansers post match. Opt for
Face washes made of 

natural actives and free from harsh chemicals
 for best post game freshness.
Protection against turf burn.
People who play basketball, football, soccer, Volleyball, and other turf sports might eventually get turf burns. Therefore, wearing padding on commonly affected areas, particularly knees and elbows, is the key. Besides, you can wash a turf burn thoroughly by running water over it to remove dirt and then cleaning it gently with a mild soap. Apply petroleum jelly to soothe the injured skin and reduce friction. You can also use an adhesive bandage. It is known that the wounded skin is at risk of infection, so turf burn should not be ignored. It should be washed and re-dressed daily. Some red flags related to turf burn include increasing redness or swelling around the area and discoloured or foul-smelling drainage from the injured skin.
If you experience these, ensure that you take immediate medical action.

What are your thoughts on skincare for Volleyball players? Comment below


Frequently Asked Questions


What sunscreen do beach volleyball players use?
A. Beach volleyball players typically prefer high-performance sunscreen products that offer excellent sun protection without compromising their game. Many athletes use sunscreen brands that are water-resistant, sweat-resistant, and provide broad-spectrum UVA and UVB protection. These sunscreens are designed to withstand the rigors of outdoor sports, including exposure to sun, sand, and water. Some popular options include sport-specific sunscreens from reputable brands, which often come in various SPF levels to suit different preferences.
Which SPF is best for sports? 
A. The best SPF (Sun Protection Factor) for sports depends on various factors, including your skin type, the intensity and duration of your outdoor activity, and the weather conditions. For most sports, particularly those played outdoors, it's recommended to use a broad-spectrum sunscreen with an SPF of at least 30. SPF 30 provides adequate protection against both UVA and UVB rays. However, if you're engaging in prolonged or intense outdoor activities, especially under strong sun exposure, opting for a higher SPF, such as SPF 50, can offer added protection. Remember that sweat-resistant and water-resistant sunscreens are also crucial for sports.

Why is there a white shirt in volleyball?
A. 

The use of white shirts in volleyball is primarily for practical and traditional reasons. White shirts are chosen for several key reasons:

Visibility: White shirts are highly visible against the contrasting background of the volleyball court, which is typically a mix of light-colored sand or a wooden floor. This visibility ensures that players and referees can easily track the movement of the ball during the fast-paced game, reducing the chances of errors and promoting fair play.

Tradition: Volleyball has a long history of using white shirts as part of its traditional attire. This tradition has been carried forward to maintain the sport's unique identity and connection to its roots.