How do you stop sweaty palms in sports?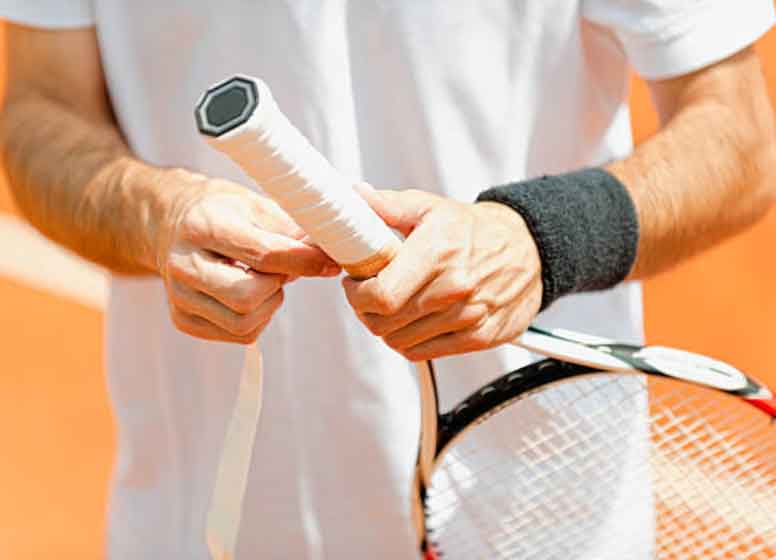 Sweat forms an inevitable part of most sports. In the case of some sports like badminton, table tennis, tennis, weight-lifting, or any other that requires players to handle any sporting equipment like a racquet, or dumbbell, sweat can have an adverse impact on performance.
While we cannot avoid sweat while playing, we can prevent sweat from accumulating on certain parts of our body, which in turn hampers our performance. The palms are one of the most common parts where sweat settles as if it has a rent-free accommodation. Our palms can get sweaty after a rigorous session of play or an intense workout programme. So, to keep our palms dry and sweat-free, there are a few easy tricks:
Use of hand grip cream or GripStrong spray is an elixir for profuse sweaters. The benefit of using a hand grip or GripStrong spray is that it forms a dry barrier over the skin to prevent sweat from accumulating on the palm.
The spray evaporates quickly and deposits microscopic silica particles on the skin. These particles combine with natural oils in the skin to form a fine-grade, sandpaper-like moisture barrier on the player's hands. It temporarily blocks your sweat glands and keeps sweat from reaching your skin's surface.
Once you've applied it, give it another thirty seconds to absorb into your skin. This aggressive non-slip formulation significantly increases the friction between the players' hands and their sporting equipment like racquets, bats, dumbbells, etc., thus effectively enhancing grip.
In other words, the hand grip or GripStrong spray is called an antiperspirant spray. This antiperspirant spray is excellent for the hands and is the perfect, non-invasive solution for anyone with excessively sweaty palms. Other remedies Besides using hand grip or GripStrong spray, you can avoid excess sweating by hydrating yourself with lots of water throughout the day. Despite what you might think, drinking water does not cause excess sweating; dehydration does.
Drinking water helps keep you cool while it reduces your core body temperature. If you keep a tab on sweating, you can delay the occurrence of sweat on your palms.
Additionally, keeping a cloth or towel with you always ensures you will always be ready when you start sweating profusely. A quick wipe just before resuming the play or dealing with a stressful situation in a game will ensure that your hands are always dry when needed. Use cotton to get the most moisture absorption possible.