What soap to use for chlorine rash after swimming in a public pool?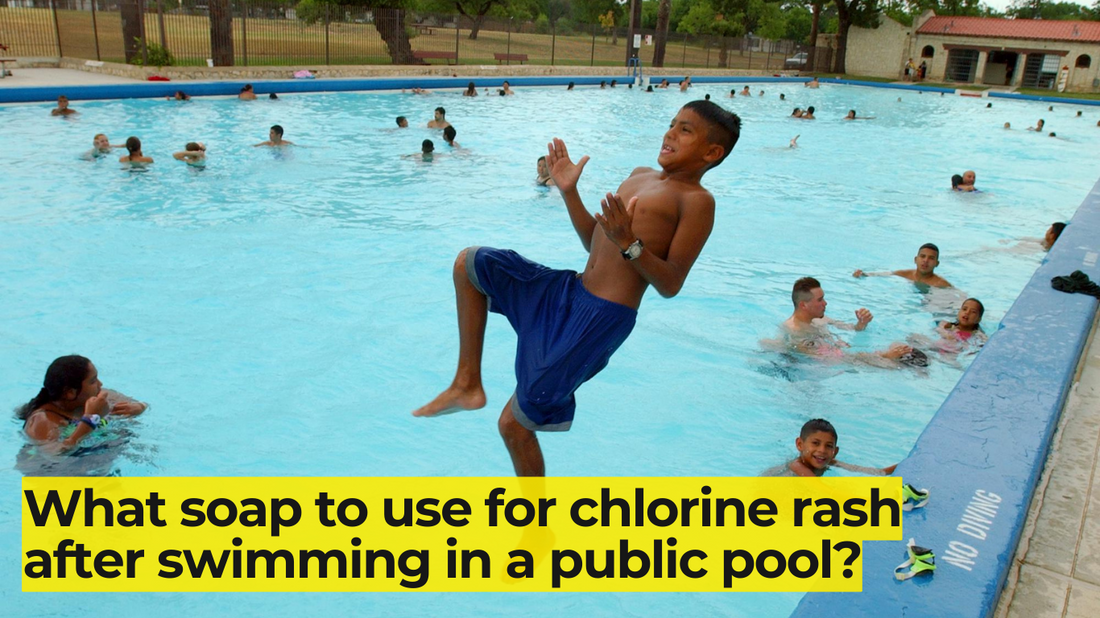 After a fruitful swimming session, you must remember that you are not yet done. So, what is pending? While many of us would forget or ignore having a bath with clean water after swimming, it is crucial to understand that the post-swimming ritual of taking a shower is as essential as swimming. Though you might feel clean from the inside after a fulfilling swimming session, your outer body is unfortunately unclean because of the exposure to chlorine present in the chlorinated water of the swimming pool. So, how do you eliminate the harmful chlorine and its lingering smell on your skin and hair? While there are some specially formulated soaps for removing chlorine from your skin and hair, the easiest solution is taking a shower with clean water and anti-chlorine soap.
Anti-chlorine soap:
An anti-chlorine soap is usually made of natural ingredients, ensuring you suffer from no side effects after its usage. It can cleanse chlorine and other chemicals from your skin gently. This skin-care formula used in anti-chlorine soap makes it ultra moisturising. Since chlorine tends to strip the oils from your skin, applying a moisturising soap is vital. Besides, some anti-chlorine soaps contain ascorbic acid, orange peel extract, and lime peel extract, which are rich in Vitamin C, which is excellent for your skin. Along with these ingredients, some soaps contain charcoal powder and spearmint, which help remove chlorine and other chemicals from your skin.
Other soaps:
Soaps packed with all-natural ingredients like aloe vera and "chlorine busters" like EDTA (ethylenediamine tetraacetic acid) help unlock the chlorine bond from your skin and hair. Besides, soaps containing magnesium chloride, dead sea salts, red algae, coconut, and almond oil replenish your skin. This blend ticks all the boxes as far as neutralising that chlorinated smell on your skin is concerned. It also assists in repairing dry skin.
Additionally, soaps loaded with coconut and palm oils assist in reloading your skin of all the essential oils the pool water just stripped off.
Read our article on- 
Why Are Chlorine-Neutralising Soaps Very Important For Swimmers?
Wash off chlorine and get moisturised skin:

An anti-chlorine soap or a soap rich in ingredients that can wash away chlorine from your skin should be an essential part of your swimming kit bag. Just like you carry your swimsuit, glasses, and cap to the swimming pool, ensure you have a spot reserved for the soap. Showering with clean water and any of the earlier soaps can go a long way in keeping your skin moisturised, hydrated and healthy. Regularly using the soap after your swim session will prevent your skin from contracting infections caused by the chlorinated water of the swimming pool.


Additional Tip: 
Make it a habit of using Pre-Swim lotion before you go for swimming, especially in a local pool. Pre Swim lotion helps prevent drying, itching, chlorine odour and swimming pool rash. 

What remedides would you recommend for someone having an itchy skin after swimming in a public pool? Comment below


Frequently Asked Questions:

What type of soap to use for chlorine rash after swimming?
A. If you're dealing with a chlorine rash, choosing the right soap is crucial for relief and healing. To effectively address a chlorine rash, consider using a mild, hypoallergenic soap specifically designed for sensitive skin. These soaps are gentle and can help soothe irritated skin without causing further harm.

Can you get a rash from a public pool?


A. 

Yes, it is possible to get a rash from a public pool. Public pools can sometimes be a source of skin irritations and rashes due to various factors. The most common type of rash associated with public pools is known as "swimmer's rash" or "chlorine rash." To prevent chlorine rash, shower before entering the pool to remove oils and contaminants from your skin, rinse off after swimming, and apply a moisturizer to keep your skin hydrated. Additionally, consider using hypoallergenic or sensitive skin-friendly sunscreen and skincare products.

How long does it take for a chlorine rash to go away? 
A. 

The duration for a chlorine rash to go away can vary depending on the severity of the rash and individual factors. In most cases, mild chlorine rashes can resolve within a few days to a week with proper care and treatment. However, for more severe or persistent rashes, it may take longer for the symptoms to subside. It's essential to consult a healthcare professional if the chlorine rash is severe, persists for an extended period, or is accompanied by symptoms like blisters, oozing, or signs of infection.